Cartagena, Colombia Elite Matchmaking and Dating Service
Love International
Centro Comercial Michael Center
Avenida San Martín # 5-52
Local-12-13
Cartagena, Bolivar, Colombia
+57 320 30 39 123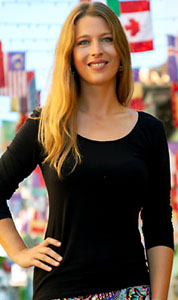 Maria - Executive Matchmaker Cartagena
Are you ready to find love in the gorgeous city of Cartagena, Colombia?
Established in 1995, Love International and the AFA Network have been working as a global matchmaking platform, with affiliate offices spanning four continents around the world.
We have an elite matchmaking team dedicated to helping you find the best quality matches – and ultimately, your future life partner.
Our matchmakers have the knowledge and experience to accommodate you in your journey. Not only will you get to meet sincere individuals who are looking for marriage and a long term relationship, but you'll also get to build lasting connections with them.
For over 26 years we have developed our services and operations with the help of staff members located in various countries worldwide, all working efficiently to find you the best match.
That being said, we would like to feature our exclusive matchmaking service that will play a role in your success. We are committed to giving you the personalized attention that you need so we can assess the qualities and preferences you seek in a lifelong partner.
Our story is the story of your successful dating experience in Cartagena.
Rest assured that our team will be working with you behind the scenes to provide the support that allows them to do their job effectively and successfully.
So let's get started. We're here to help you find lasting love.
Call Maria today at: +57-5–6655438
Or corporate office at +1 602 539 8000
Toll Free North America: +1 (844) 522-9864
If you are in Colombia, please feel free to drop by any of our offices in Medellin, Cartagena or Barranquilla.
Love International Members
Below you will find some of our members' profiles. We always respect members' privacy. Members shown have given their specific permission to have their profile visible on our site. These profiles are just a small example of the tens of thousands we add to our system each year.